Whole School
---
Music, music everywhere
01
---
Spring Concert
02
---
Farewell Mr Charles
03
---
Year 3 Musical
04
---
Chamber Choir Award
05
---
Fresh Jazz
06
---
Mexicolore!
The Spring Concert is an occasion for our jazz and rock musicians to showcase their talents, and this year it was fantastic to see a real growth in the number of these groups performing and improvising to a very high standard from Year 7 up to Tear 13. Mr Ingamells' small jazz groups performed confidently in styles ranging from swing to blues and latin to funk.
The Big Band featured the vocal talents of Cordi Hobbs and Sam Hemingway who performed with great maturity and a real understanding of the jazz style. It also provided the perfect vehicle for Oscar Turner to take the solo spot on Baritone Sax in Charlie Mingus' iconic classic Moanin'. Louis Sumner's impressive drumming skills wowed the audience in Sing, Sing, Sing and was a fantastic finale to the whole evening.
We were also treated to performances by rock bands from both Year 10 and 11, whose confidence and musicality were impressive. Mr Cotton's close harmony group's performances of I'm Yours, I Got Rhythm and Superstition were classy and sophisticated demonstrating the versatility of the school's singers. With three classy vocal solo performances by Oliver Saint, Grace Taylor and Jay Pasricha (accompanied by the PGS House Trio of Mr Hemmings, Mr Furniss-Roe and Ms Smith) the evening encompassed pretty much every style of contemporary popular music.
A guest vocal performance by Mr Charles, which can be viewed below, also provided us with a lovely way to say thank you to him for his support of school music before he leaves us at the end of this term.
FAREWELL MR CHARLES
---
This term we bid farewell to Mr Ben Charles as he leaves PGS to become Principal and Headmaster of the
Senior School at King's Rochester.
Mr Charles joined PGS in 2009 taking up the role of Deputy Head (Co-Curriculum and Communications) before moving on to become Second Master in 2016. Though his role as Second Master meant he had less occasion to perform, he will be remembered for taking to the stage to sing whenever the opportunity arose!
We also say goodbye to Helen Linnett who has worked at PGS since 2002 in the Sports Department and as
Deputy Head of Sixth Form.
We wish Ben, Helen and their family all the very best in Kent.
Pull, Pull, Pull!
Year Three performed an original version of the Russian folktale, The Enormous Turnip.
A rather cantankerous old man grew a turnip and it grew bigger and bigger and bigger. He didn't want any help, even when he was offered help from the Three Little Pigs, Goldilocks, Three Bears, Snow White and the Seven Dwarfs!
All of the children spoke with clear voices and lots of expression. They sang with enthusiasm and they danced with great enjoyment. Eventually, the old man got the help he needed from his family and they enjoyed a delicious meal of turnip soup, turnip stew and turnip pie.
Well done to Year Three for a fantastic performance full of fun and turnips!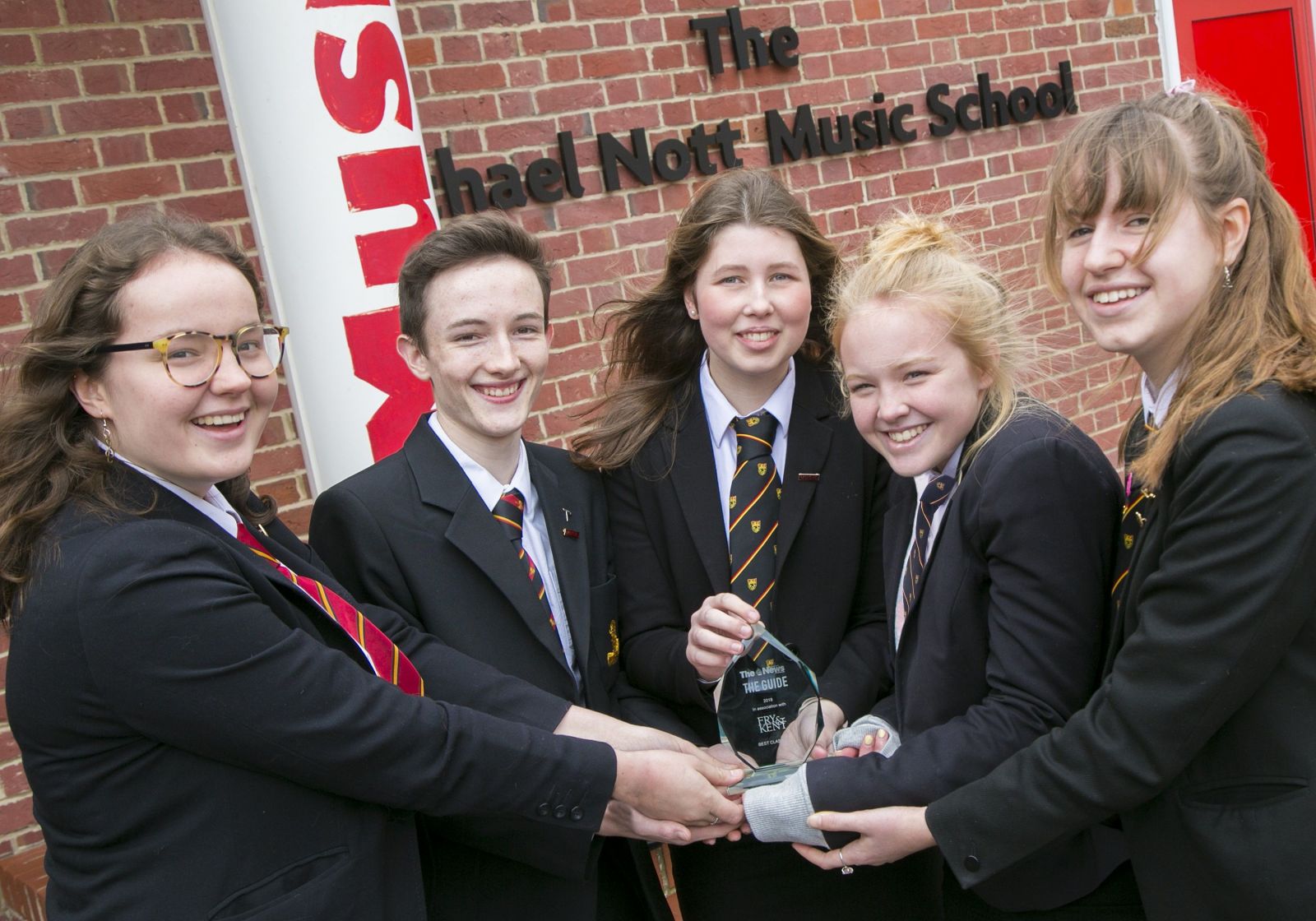 Award Winning Performance
PGS Chamber Choir were delighted to have been awarded the Best Classical Music Act in The News annual News Guide Awards. The nomination was received for a concert they performed as part of the Portsmouth Festivities in June 2018 with Peter Philips and the Tallis Scholars.
The Chamber Choir joined the professional choral group for performances of sacred Tudor music by Gibbons and Weelkes along with music by contemporary British composer, John Tavener.
The choir was complemented on the blend and balance of the sound and the professionalism and poise with which they performed.
"It is a privilege to feel that the music making of our young musicians is so appreciated by the wider community," said Mr Gareth Hemmings, Director of Music. "I am proud that it has brought happiness and enjoyment to others, which is the greatest thing any musician could wish for."
Fresh Jazz
Anyone who came to the amazing concert given by Kate Williams' Four Plus Three meets Georgia Mancio cannot fail to have been moved, entertained and transported to a different place for two hours.
The fresh and creative sound worlds conjured up by the combination and fusion of string quartet, jazz trio and vocalist breathed new life into formats and genres that are instantly familiar, yet when mixed in the hands of such talented musicians created something unique and special.
Inspired by vocalist Georgia Mancio's experiences volunteering in the refugee camp known as The Jungle in Calais, this collection of new original music and re-workings of jazz standards in collaboration with the hugely gifted Kate Williams, was haunting, moving and original.
Our GCSE and A Level musicians had the chance to work with the group in the afternoon looking at how this fusion was created and how musicians from different genres and backgrounds found the common ground to work together and create something new from this meeting of minds.
This workshop and concert marks the start of the group's UK tour and launch of their new album Finding Home - this is well worth getting a copy of!
MEXICAN DRUMS, SUNSTONE AND SACRIFICE
In January Year Five had a visit from the interesting Mexicolore team.
First of all, Ian (part of the Mexicolore team) taught the pupils how to chant in Mexican. The Mexicans chant in numbers up to four. They were given instruments from the Aztec era such as drums that are mounted on its side to make wonderful echoing sounds by someone beating it with a wooden beater. Turns were taken using the drums, while other children were chanting. Big, round drums - as big as school desks - were also being played.
The pupils were then introduced to the sacred sunstone. The Sunstone was a calendar of 20 days to 365 days, dependent on the size of the sunstone. On each slot of the date there was an image predicting what would happen on that date. Ian explained some Aztec history including storms and famines, then a short break flowed into an intense chant including dressing up and maraca like instruments being played - such a great sound!
Jamie and Max were then chosen to play a short version of the Aztec Ball Game. It consists of 2 teams playing with a rubber ball made with tree sap. Two small hoops are either side of the court, only big enough for the ball to fit through but positioned higher than our school building! To move the ball, the player could only hit the ball with their hips, which was very tricky (as the film shows!) and then they would have to try and get the ball through the hoop too. The winning team would get to celebrate but the loser would be sacrificed!
Mexicolore made an exciting start to the Chocolate topic and everyone was inspired to find out more of the Aztecs and their culture.