---
Muggles, Maths and Beyond...
01
---
The MUN Conference debates Muggle knowledge
02
---
Year 5 face a Maths Challenge
03
---
Looking towards Sixth Form and Beyond
04
---
The Economic Outlook
Scroll Down
Muggles and the MUN
By Douglas James and Philippa Noble, Year 13




Secretary Generals
Magic, debate, costumes, outrageous claims, the danger of muggles... PortsMUN Conference 2019! No wait, that was just Friday - our Magical Emergency Assembly.
After school on the 15th March, we donned our cloaks, pocketed our wands, and began our journey into the greatest fears of the wizarding community: discovery. Joining us for the weekend, four other schools convened in the Bristow Clavel Lecture Theatre for our Opening Ceremony. Mrs Sands helped us introduce the weekend and the main theme of sustainability, before we brought in our chairs, declared the conference open, and split off into committees.
After a brief rundown of Model United Nations rules, we began lobbying - making allies, and trying to promote our own resolutions for debate on the Saturday until the chime of 6pm. With a swish of our cloaks, we arrived at the Grand Hall (our decorated… or shall we say transfigured Dining Hall) for a magical meal. And, having flicked through the Daily Prophet, the emergency debate began. Muggles were fast on our tail and the wizarding community had to react fast to ensure their survival. Some worrying developments from the UN, an appearance from SPEW, and a few threats from the Death Eaters later, we passed a resolution to trade in our wands for clown outfits for optimum secrecy.
Barely sleeping, still full of energy from the Friday night, we reassembled in committees on the Saturday morning to debate topics around our theme of sustainability. Of course the Environment Council took this opportunity by the head and forced various countries to seriously reduce their emissions, brought in a more sustainable global incineration program, and also created International Hedgehog Day. The other councils debated fiercely over their own subjects, from Human Rights to Health, and a global military crisis brewed after a tumultuous debate about Ukraine's borders in the Security Council. After this, the delegates returned, exhausted, to the lecture theatre for one last debate - this time a crisis had arisen in China and, with the help of our very own PortsMUN news videos, the MUN gave one last push to once again solve a global crisis.
Unfortunately, as perhaps was expected from such a politically driven event, different countries tried to push their own agenda and there was much infighting within the MUN emergency assembly. After many threats of war and worse, an agreement was finally made to deal with the crisis. This agreement may or may not have involved the complete and utter destruction of the USA, but hey…
In January, the Junior School hosted an inter-school maths challenge run by Douglas Buchanan. The event consisted of a variety of mathematical tasks for the children from 24 schools across our local area, and created a busy and exciting atmosphere for our young mathematicians.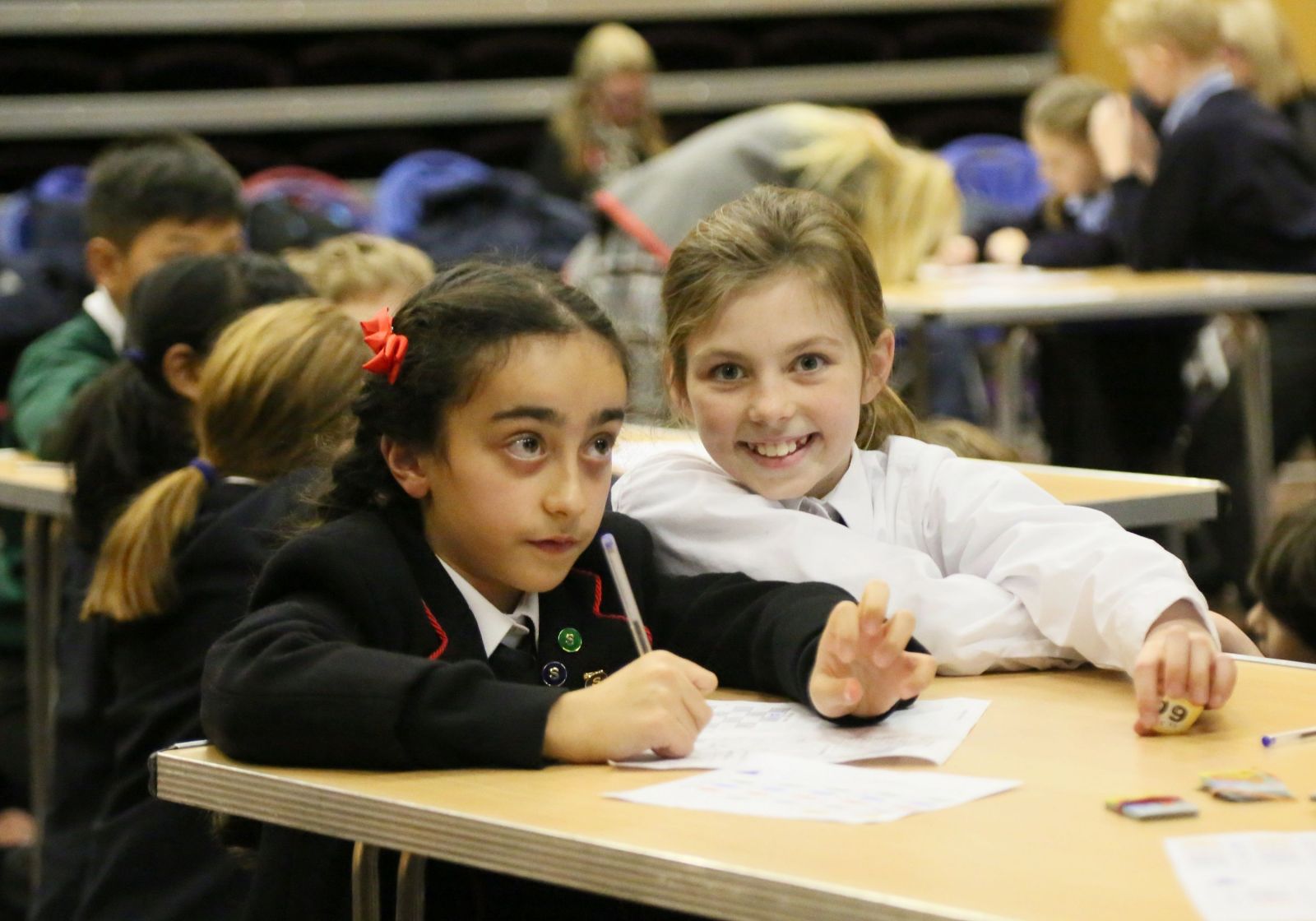 "In January Elias and I represented our Form and school in the maths challenge. There were 24 schools and 108 children. It was a fun challenge for everyone. It was like a round-robin with us all completing nine activities to score points, throughout the afternoon. There was an amazing selection which included multiplication, division, addition and subtraction and a bit of counting. Some of the activities were easier than others and the hardest task was to make shapes from other shapes! It was like a jigsaw puzzle but much trickier. Elias and I enjoyed the ordering task and we could see our success straight away.
Kingscourt won the overall event, but in the end we were all winners in mathematics because we had so much fun. Well done to all the teams who competed, I am really pleased that I got to take part."
Starting to look beyond PGS
Looking to Sixth Form and then beyond PGS, this term we hosted both the Sixth Form Subject Forum for Year 11 pupils and the Universities Fair for pupils in Year 11 and 12.
At the end of January the Sixth Form Centre buzzed with activity when we welcomed a huge number of Year 11 pupils, parents and prospective pupils to the Sixth Form Subject Forum. It was a busy evening for staff and current Sixth Form pupils as they answered a range of questions about subjects, A Levels and IB choices.
It was, as ever, fantastic to see such interest and enthusiasm for Sixth Form study at PGS.
Then at the beginning of March we welcomed over 500 people to the 2019 PGS Universities Fair, where visitors had the opportunity to talk to representatives from 40 of the UK's leading universities.
There was an air of excitement in the Sixth Form Centre, as pupils from Years 11 and 12 explored a dizzying range of opportunities. In addition, they listened to a presentation from Claire Sutton, about the possibilities offered by degree apprenticeships as an alternative pathway to university. PGS Head, Dr Anne Cotton, offered invaluable advice about what selective universities are looking for in successful applicants, while Dr Martin Grossel, of Christ Church, Oxford, and a PGS Governor, explained what makes the Oxbridge application process unique.
The visiting universities commented very favourably on the enthusiasm and sense of purpose demonstrated by PGS pupils throughout the evening.
Economic Study
This February, pupils were able to expand their learning about not only the current key influences on the world economy, but also about what careers in financial services may be like.
During February half term, three of our Year 13 Economics and Business pupils gained places on the Goldman Sachs A-Level Girls Programme. Amy Mitchell, Clemmie Taylor-Smith and Olivia Kirkwood attended a day at Goldman Sachs head office in London, aimed at mentoring them in the world of finance.
Amy said: "It was an interesting day; we learnt about the financial world and the career paths available, as well as tips on improving our CVs when applying for internships. I'm not sure any of us were quite convinced enough to go into banking (especially after watching The Big Short! the previous week) but it was well worth going to."
Institute of Economic Affairs
In the second half of term, the Institute of Economic Affairs visited once more for their Spring Sixth Form Conference. Pupils from Canford School joined PGS Economics pupils to discuss and learn about global poverty, financial markets and the economics of Brexit. We thank the IEA for their excellent speakers: Ralph Buckle, Catherine McBride and Kristian Niemietz.