Wielding swords and hand axes, bows and slings, Year 5 didn't quite ransack the Junior School but certainly had a lot of fun during their Viking Day.
Bringing history to life, a real-life Viking took the children to his camp telling them stories about the Viking Gods Odin, Loki, Thor and Freya. After lunch there was a Viking funeral of the Chief Warrior.
"I got to be the Viking Chief Warrior," said Artemis. "A Viking tradition is that the warrior is buried without their weapons unless you are a chief, so I was buried with a sword, shield and a javelin. I also got really wet because they poured water all over me to try and wake me up! I really enjoyed the Viking day because I learnt a lot of interesting facts."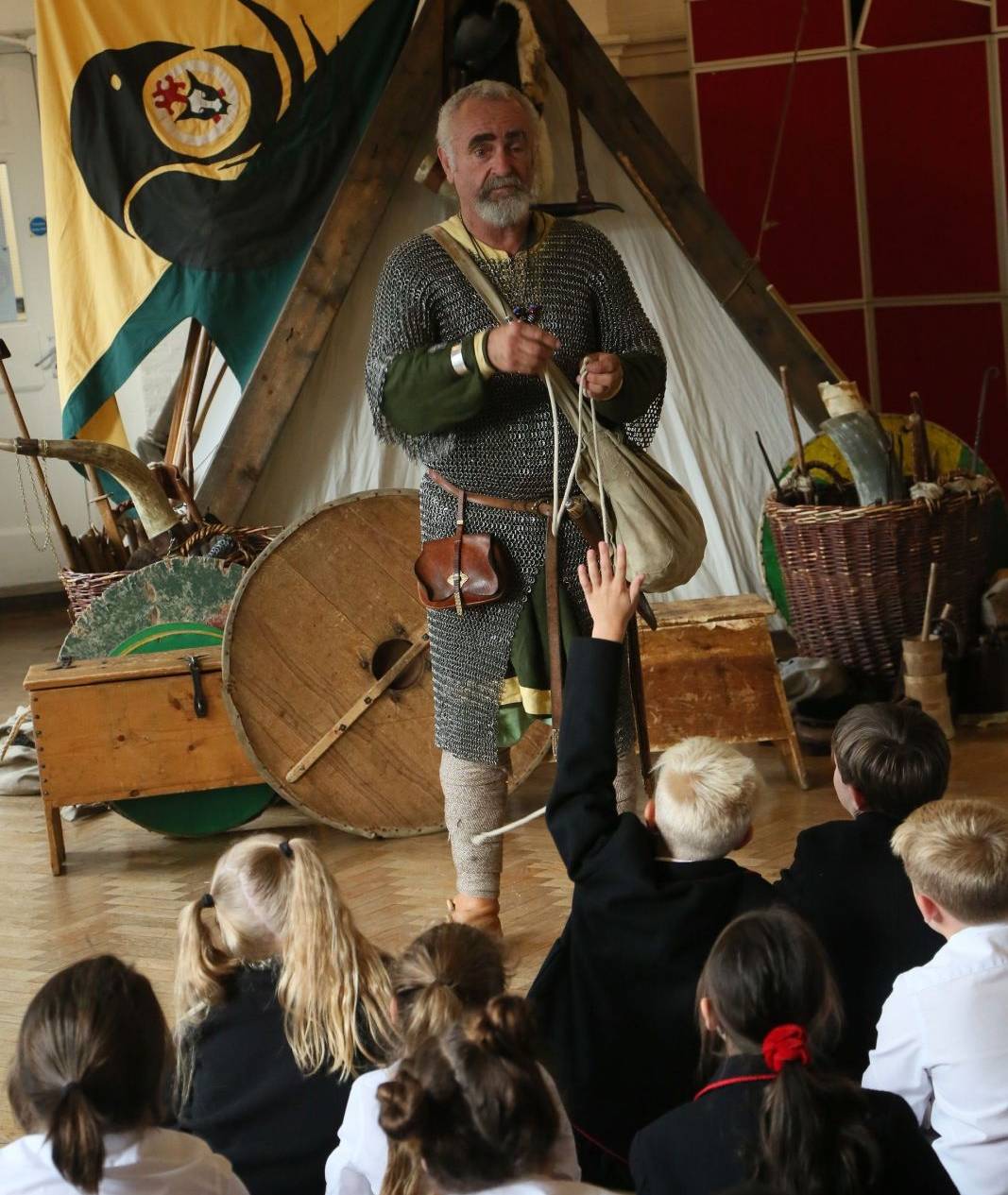 Dr O'Neil gave a brilliant Brunel Science Lecture, initially alarming parents and pupils when they heard that drugs such as aspirin and paracetamol would not be medically approved now due to serious issues with toxicity and further worried them about the fatalities caused by these and other common medicines such as penicillin. Panic almost resulted when Dr O'Neil gave the bad news that no new medicines had been developed by big pharmaceutical companies for counteracting infections since 2007 and worse, that by 2050 simple infections could be fatal!
Anxiety levels quickly returned to normal as her account then followed of how the human immune system worked and how companies such as NovaBiotic were using their understanding to develop new drugs. These new substances are less harmful, more targeted and less likely to become ineffective over time.
The really clever biochemistry came at the end of the lecture with a brief account of the development in personalized medicines using a person's own antibodies. Science, in this case Biology, comes to the rescue to save humankind; 'twas always thus and always will be.
Dr O'Neil expertly fielded a plethora of questions from the audience before a now much more optimistic audience wished her a good trip back to Aberdeen to continue her very important work.
BEWARE!
PIRATES OF THE CURRY BEAN
It was anchors away and set sail for the Year 6 swashbuckling pirate adventure on the high seas in a piratical musical at the end of last term.
Young twins Jack & Liza Periwinkle yearned for adventure, so imagine their joy at discovering a real life treasure map! But when the infamous Redbeard and his pungent Pirates of the Curry Bean stole the map and kidnapped their mother, the race was on to rescue her, reclaim the map and find the treasure! Accompanied by their faithful cat Fiddlesticks, the twins joined a mad Admiral and his crazy crew on a voyage of adventure that took them from Old Portsmouth Docks to the mysterious island of Lumbago in the sea of Sciatica!
There was plenty of laughter, throughout the performances and the rehearsal process, as well as an inclusive ensemble feel to the whole production. It was a fantastically dramatic farewell to Year 6 before they moved on to Middle School.